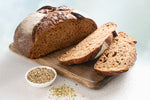 Bake off is on TV right now and for anyone bitten by the baking bug but not sure about all the faff, here is a super simple recipe for bread using Kombucha instead of yeast or sourdough starter.
✅  3 large cups of Spelt Flour
✅  2 large cups (500ml) KTea Kombucha (We like Sencha or Golden Hops but any flavour will work)
✅  1 Teaspoon of Sea Salt
Mix the salt and the flour and add most of the Kombucha. Stir until the mixture forms a springy dough. It should be firm and a bit spongy. If it looks too dry add the rest of the Kombucha.
Leave overnight (12 hours) the dough will have risen a little and look glossy on top. Don't worry if a little liquid has appeared.
Line a loaf tin or high sided sponge cake tin with greaseproof paper and tip the mixture in. It should come out of the bowl cleanly.
Bake at 230 Celsius for 40 - 50 mins.
Cool before cutting.