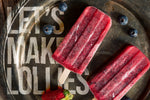 Cucumbers don't even get a look in when it comes to keeping cool, but a perfectly chilled KTea is about as refreshing as it gets on a hot day.

To make a zingy lolly, take your favourite KTea, pop open the top and leave it sit for 10 minutes - that natural sparkle needs to slow down a bit in this case!

Then simply pop into lolly moulds along with your favourite fruit. One of our favourites is smashed strawberries (with a hint of basil if you are feeling adventurous) another is blueberry and raspberry and don't forget to add the stock before freezing.

We find berries work best but have heard of successful experiments with peaches, kiwi and even pineapple.