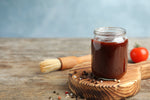 BBQ season is here so why not try something different for a marinade? This quick and easy BBQ sauce even helps tenderise meat.
Ingredients
✅ 1 cup KTea (Africa is a good one for this, but any flavour will work)
✅ 1 tbsp. Brown Sugar
✅ 1 tbsp. Sea Salt
✅ 1 tsp. Chilli Flakes
✅ 1/2 tsp. Cayenne Pepper

Mix all ingredients in a bowl and refrigerate for at least 4 hours then marinade meat or brush on to your BBQ favourite.