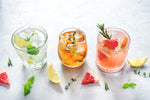 Summer is here and that means it's the perfect time of year to relax and enjoy the sun. We can't think of anything better than a delicious KTea Kombucha cocktail or mocktail to help you stay cool in the heat!

We've picked out these two delicious recipes - 'Sunshine Margarita' and 'Wildberry Mocktail'. Both should take you no more than five minutes to make, so you don't have to worry about missing out on any of the fun going on outside.
Sunshine Margarita
✅ 3 tablespoons tequila
✅ 2 tablespoons triple sec
✅ Juice from 1/2 orange
✅ Juice from 1 lime
✅ 6 tablespoons KTea Pekoe Kombucha
✅ Pinch of ground turmeric
✅ Mint leaves for garnish

Shake all the ingredients except the kombucha and the mint with ice in a cocktail shaker. Fill your glass with ice, strain the mixture into the glass about 3/4 of the way full. Top off with kombucha, garnish with mint and enjoy.
Wildberry Mocktail
✅ Juice from 1/2 lime
✅ Handful of smashed frozen or fresh blackberries
✅ Drizzle of raw honey
✅ Mint to garnish
✅ Ice
✅ KTea Summer Hops Kombucha

Put the smashed blackberries at the bottom of a glass, add ice until almost full. Pour in the kombucha, squeeze in the lime juice and drizzle with honey. Gently stir and garnish with mint and berries then sit back and relax in the sun with your delicious mocktail.