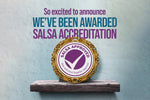 So excited to announce we've been awarded SALSA accreditation!
SALSA (Safe and Local Food Supplier Approval) is an approval scheme designed to help smaller local food and drink producers looking to supply their products to regional and national buyers. It's granted to suppliers who are able to demonstrate that they meet rigorous standards of food safety and quality and is overseen by the major associations in the UK Food Chain, including UK Hospitality and the Institute of Food Science & Technology.
Our founder Kate Attieh said of the accreditation, "I started KTea because I discovered Kombucha, fell in love with the taste, and the health benefits it brings. I wanted to be able to enjoy it locally and, of course, when you are passionate about something you want to introduce to as many other people as possible."
Having started small scale brewing in 2018 we've grown steadily, increasing the range of flavours to 5 and moving into larger premises at the start of 2022.
The accreditation is just one part of our planned expansion. We've invested in a purpose-built Caterpod to help with tastings at local events and are soon to take delivery of a new bottling plant that will significantly increase our capacity.
Kate summarises "KTea took off brilliantly in Guernsey and having expanded into Jersey we are now looking to bring it to a wider audience. Having SALSA accreditation will help us with this growth into exciting new markets."