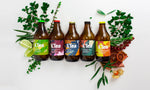 So you're keen to join the KTea world, but you're not quite sure which flavour's going to set your heart a sizzle? Whether it's your first foray into the many varied tastes of kombucha, or you're an old hand, our brews all have their own distinct identity - unlike any you might have tasted before. While it's hard to get their true 'je ne sais quois' down on paper (or screen, as it were) here's a little intro to our four ferments.
Ktea Gold: Oolong tea with botanicals

...always believe in your soul! We certainly feel indestructible and full of soul after a bottle of KTea Gold. Made with a blend of smooth and subtle Oolong leaves from Taiwan and bold and bright Ceylon leaves, KTea gold is the most like a classic kombucha flavour, and so a great place to start for kombucha newbies. It's got the subtle taste of a dry cider, but with a hint of parma-violet like sweetness from a jasmine infusion, making it a great all-day all rounder.

Buy now
 

KTea black: green tea with African botanicals

With its woody and refined flavour, this brew feels like the most grown up of our flavours. That is, until you realise that the distant memory it's invoking is that of black wine gums - then it's just as fun and playful as the rest. Refreshing mint and citrus notes make it the first thing to reach for on a hot day. We use sencha green tea leaves for KTea black, the most popular green tea in Japan, and known for its antioxidant properties. Legend has it that Japanese diplomats brought sencha tea back from China in the 8th century, and served only to nobility and Buddhist monks - so we don't mind if you raise your pinky as you drink.

Fun fact: Sencha tea leaves are grown in full sunlight - we think you can almost taste the sunshine in KTea Black.



 

 

KTea Red: orange pekoe

The Sri Lankan tea leaves in this blend certainly get us thinking of tropical beaches and sunset surfs. Whilst it is as refreshing and sweet as an orange, the 'orange' in the title of the Pekoe tea leaves we use for this blend refers to its history rather than taste. It's thought that it refers to the Dutch House of Orange, who were one of the first and biggest to start shipping tea back to Europe and renowned for their high grade teas. KTea Red is a soft-round-the-edges 'buch, with coconut, apple, strawberry, rosehip and Kiwi pieces scattered in the leaves - almost as good as a beach holiday.

Fun fact: 'Pekoe' refers to the top two (youngest) leaves which are the only ones that can be used in a Pekoe tea. We think the youth of the leaves impart a youthful flavour - there's zing, and an almost tropical and sherbert like flavour.



 

 

KTea Green: Green tea with botanicals

In KTea green, the refined formality of sencha green tea leaves (we met them earlier in KTea Black) put on their prettiest floral dress and bring you straight into summer. With rose petals and a cherry flavour, this brew has the perfect balance of sweet and dry, with a crisp finish you thought you could only get in a small batch cider. Whether it's because the leaves are harvested during early spring, or the elderflower notes combined with our signature sparkle, this brew gives the feel of a summer party without the next-day regret.

Buy now
 

KTea Yellow: Sencha green tea with ginger and lemongrass botanicals

This is a brew for warming the cockles, with a gentle ginger tang and lemongrass botanical flavours (none of that knock-your-socks-off strength ginger here). There's a reason why sencha green tea is the most popular in health-focussed Japan - it's rich in vitamin c and antioxidants. We reckon this one is a great beginner's 'buch - familiar flavours meet the maturity and well-rounded flavour of our base brew, leaving you ready to start your foray into the fermented world.

Buy now
 
So there you have it. Four distinct personalities for every palate. Whether you like a playful zing, or want a kombucha as sophisticated as you are, there's a KTea for every palate. Enjoy on the rocks or as a cocktail (keep an eye out for some of our favourite recipes), but know you're doing yourself good with every sip. Each flavour comes in a pack of 12, or for the full range, try a mixed case.