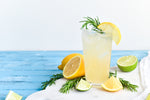 Spring is in the air and it's the perfect time to indulge in a KTea Kombucha cocktail or mocktail to tantalise your taste buds.

We've picked a couple of quick and easy recipes that are sure to refresh and delight!
Sparkling Spring Mocktail
This delicious tonic tastes like a slightly sparkling lemonade. Add strawberries or raspberries to take this mocktail to the next level.
Ingredients
✅ 1 bottle KTea Kombucha (We think Sencha, Pekoe or Africa are best)
✅ 4 tablespoons fresh lemon juice
✅ 4 tablespoons fresh orange juice
✅ Level teaspoon of honey
✅ Half a cucumber
✅ Handful of mint leaves
✅ Ice

Put honey, cucumber and torn mint leaves in a cocktail shaker or jug and mash. Add lemon and orange juice and ice and shake or stir then strain into tall glasses with more ice in and top up with KTea Kombucha. Garnish with a sprig of mint and a slice of orange. Adjust with more lemon if you prefer a sharper taste or more honey if you want it sweeter!
Super Cocktail - Kombucha
This recipe comes via Belvedere Vodka.
Ingredients
✅ 40ml Belvedere Vodka
✅ 15ml honey
✅ 20ml fresh lime juice
✅ 60ml kombucha
✅ 1 dash Angostura Bitters
✅ Lime wheel

Place all ingredients in shaker except kombucha and shake with ice. Strain into a coupe and top off with ice cold kombucha. Garnish with a lime wheel.