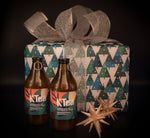 It's been a long, hard, slog of a year, and we're all feeling it. Even though down here in the Channel Islands, life is looking a little bit more normal, we're missing winter-sun breaks and our friends and families across the world. It's going to be an unusual Christmas, that's for sure, but we're wondering if there might actually be a little more 'peace on Earth' than usual this year as everyone takes Christmas a little bit easier than the usual festive blow out.
Kombucha at the Christmas table
2020 has seen us all a little more focused on our health, so what better to serve at the Christmas table than the sort of sparkle that doesn't leave you with a headache in the morning. In fact, kombucha is thought to aid the digestive system, meaning that indulgent dinner sits a little more lightly on the stomach. The low and no advocates amongst us would also point toward a less boozy Christmas, meaning fewer arguments over who should get the vaccine first, but if you find it just isn't right to see the festive season in without a tipple, here's our recipe for a cocktail to dazzle your guests.
The gift of kombucha
If there's one person Covid-19 hasn't been hard on, it's Jeff Bezos (kingpin of Amazon). If there are more, it's basically any of the supermarket big noodles, whose profits were buoyed up when a trip to Tesco's was more or less our entire interaction with the outside world.
We know these bigwigs don't need any more cash, and so we're joining the small army of folk who are promising to shop small this Christmas. If you're gifting someone a goodie bag of local loveliness, we reckon a bottle or two of KTea Kombucha will nestle in just nicely (just make sure the recipient gets it in the fridge sharpish to avoid ​an over bubbly buch​).
If you're filling up for a family, why send them the link to our flavour profiles, and see if they can guess who'll love which flavour the most before they pop open the ring pull.
It makes a great gift for those colleagues who have gone the extra mile, too. Given most of us have barely been in our offices this year, and all took a turn at student-style day drinking in the first lockdown, the usual awkward drop-and-dash gifting of a bottle of plonk on a colleagues desk just isn't going to cut it. Our kombucha is made mindfully, with care, and if you're gifting within Guernsey, we'll even drop it round for you.
So there you have it. If you're not sure which flavour to get, we'd recommend one of our mixed boxes - they're way more grown up, exciting and better for you than the usual Christmas variety packs!